WHAT PEOPLE ARE SAYING ABOUT ALICIA HALL MORAN...
Latest News
Spoleto Review: 'Two Wings' charts varied Great Migration paths through diverse talents

At some point, the minds behind the Spoleto Festival USA Wells Fargo Jazz Series must have thought, "Jason Moran." They could have stopped there and had a winning, headlining show. The pianist/composer and former MacArthur Fellow has more than a dozen solo albums and is one of the most prolific and innovative voices in contemporary jazz. But that would have been too easy, and too obvious. Friday night's "Two Wings" performance — the brainchild of Moran and the multifaceted mezzo-soprano Alicia Hall Moran, to whom he is married — provided us with something far more interesting....
Michael O'Brien

The Front Row Center, THE MOTOWN PROJECT

Talk about a gifted woman. I can't say enough about the talent Alicia Hall Moran emitted during THE MOTOWN PROJECT, now streaming for free at The Public Theater's Under the Radar Series. Her presence and her vocalization gifts are striking, mesmerizing, and deep. Her talent and sense of self comes pouring out across the screen as vibrant, large, and colorful as the Grandiflora roses she carries...
David Walters

5 Things To Do This Weekend. in category: Contemporary Music

What could the bright bounce of the Four Tops have in common with a Mozart aria? On the surface, maybe not much. But the mezzo-soprano vocalist and composer Alicia Hall Moran didn't conceive of "The Motown Project" 12 years ago to push some argument about common ground. Melding together works from the operatic and Motown canons, this suite is an inner monologue as much as a formal experiment. And it has evolved alongside her life; its pieces have cropped up on both her studio albums, "Heavy Blue" (2015) and "Here Today" (2017), and its public performances have inevitably changed as she has involved different collaborators.

Hall Moran has recorded a lockdown-era version of the suite piecemeal, working with different musicians in a variety of settings: at the Manhattan jazz club Smoke; at Firehouse 12, a studio and performance center in New Haven, Conn.; and via Zoom. Joe's Pub will broadcast this latest iteration on its website on Friday at 8 p.m. Eastern time; streaming passes are free but must be reserved in advance.
GIOVANNI RUSSONELLO

Alicia Hall Moran and Her Ultimate Mash-Up

"I use the motown project to biofeedback my relationship to what I really love about music – what I really love," says mezzo-soprano Alicia Hall Moran about her show that is part of The Public Theater's 2021 Under the Radar Festival.

the motown project (and it is purposely put in all lower-case letters), finds Moran combining many of the great songs from the Motown catalog with arias from operas by composers like Bizet, Mozart and Purcell. This might sound like a strange mash-up, but Moran has been working on various versions of this show since she debuted it in 2009. For the festival, she has created a film that goes beyond traditional performance and becomes a combination of performance and performance art. The end result is utterly compelling.

The complete show is now available for free viewing and we have it for you!>>>

In Portland, art star Ragnar Kjartansson sets capitalism ablaze with 'Scenes From Western Culture' These slickly produced videos have little in common with fan favorite 'The Visitors.'

A frame from Ragnar Kjartansson's "Scenes From Western Culture," featuring artist Jason Moran with spouse Alicia Hall Moran. RAGNAR KJARTANSSON; COURTESY OF THE ARTIST, LUHRING AUGUSTINE, NEW YORK AND I8 GALLERY, REYKJAVIK
Read More >>

I'm Tired of Being Your Side Bitch: Black Opera As Architecture

"In this roundtable, I've assembled four powerful voices in the world of contemporary opera-Kennedy, along with mezzo-soprano Alicia Hall Moran..."
Read More >>
---
Two Wings Press
More Two Wings Press at twowingsmigration.com >>
---
Air - Alicia Hall Moran & Jason Moran
from
RoundO Films
on
Vimeo
.
Alicia Hall Moran Oklahoma Girl
from
erik+
on
Vimeo
.
BREAKDOWN
from
Simone Leigh
on
Vimeo
.
Women in the Arts at the Adrienne Arsht Center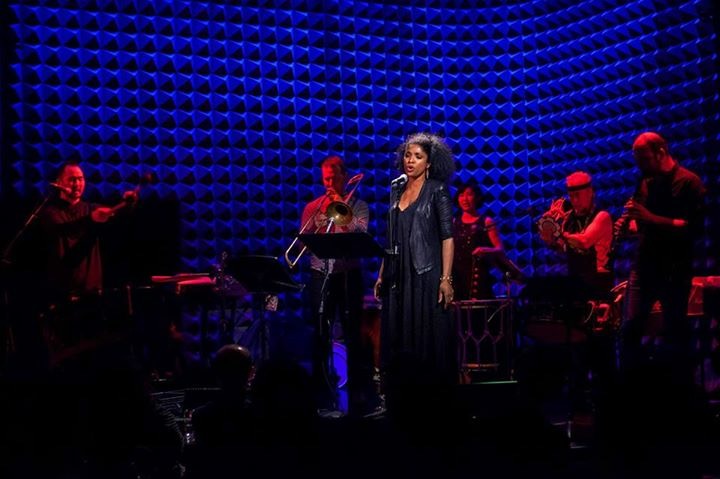 Photo by George Hirose at Joe's Pub
Google Headquarters for Vision 360
Photo by Ed Marshall at Gavin Brown's enterprise: Alicia Hall Moran & Thomas Flippin
Grant Park Orchestra review: Kahane's 'Emergency Shelter' gets a brilliant Midwest premiere
July 2019, By HOWARD REICH, CHICAGO TRIBUNE
The 2018 NPR Music Jazz Critics Poll: Critics take some flack for overvaluing originality - but Here Today is just so different.
January 2019
This couple is on fire: Alicia Hall Moran and Jason Moran
July 2018
NEC is about to get acquainted with the impossible-to-pin-down Alicia Hall Moran
March 22, 2018
Alicia Hall Moran's Unbound Musical Modernism
Village Voice, By Larry Blumenfeld
OPERA SINGER PROJECTS REAL RANGE ON THE RINK
NY1, By Stephanie Simon
'Breaking Ice' Makes Music From a Classic Skating Rivalry
New York Times/Arts, By LARA PELLEGRINELLI
Q&A with Alicia Hall Moran: Adding to a Daring Catalog
Down Beat Magazine, By Robert Ham
Art, Ancestry, Africa: Letting It All Bleed
by Ben Ratliff for The New York Times
Warm Up the New Year with New Music by Alicia Hall Moran...
WBGO Radio, By NATE CHINEN
ALICIA HALL MORAN REVIEW FOR ALL ABOUT JAZZ
All About Jazz/Reviews by TYRAN GRILLO
Alicia Hall Moran, 'Signed, Sealed, Delivered'
The New York Times/The Playlist by GIOVANNI RUSSONELLO
"Freer Still"
by Larry Blumendfeld for Blu Notes
"Alicia Hall Moran on Ficre Ghebreyesus"
from APERTURE
"Grace in the face of violence"
by Rebecca Lee Reynolds for Burnaway
New Music from Nate Wooley, Alicia Hall Moran, and Adam Larson
by Nate Chinen for The New York Times
Northern Soul
by Huey Copeland for Artforum Magazine
7 Things To Know About Alicia Hall Moran
by Lathleen Ade Brown for Essence Magazine
Musical couple collaborates in life and on the stage
by Andrew Dansby for Houston Chronicle
56th Venice Biennale: All The World's Futures
by Sean O'Toole for Frieze Magazine

Mater Mea: Alicia Hall Moran at the Whitney Museum of American Art
by Anthonia Akitunde with photography by J. Quazi King

A Little Bit Wiser: Jason and Alicia Hall Moran
by Tyran Grillo for ECM Reviews

Crossing Over A Thin Line From Sacred To Secular
by John Rockwell for The New York Times

In Tandem, the Morans Expand Notions of Art
Downbeat, Jul 12, 2018

Alicia Hall Moran: Deliberate and Natural. Out of high culture and pop culture, forging and unforgettable identity
by Zach Hindin for JazzTimes Magazine

Jason & Alicia Hall Moran introduce Yes Records"
by Willard Jenkins for Open Sky Jazz

Present Tense, Future Perfect"
by Martha Raoli for the Miami Rail

Sweet and Lowdown: Husband and Wife duo Jason and Alicia Hall Moran head back to Houston
by Brittanie Shey for Houstonia Magazine

Alicia Hall Moran: HEAVY BLUE (2015)
by Tyran Grillo for All•About•Jazz

"The women in the room"
by Tyran Grillo for Cornell Daily Sun

Porgy and Bess At National Theater Respectful and Genuinely Thrilling"
by Nelson Pressley for the Washington Post
NATIONAL TOUR REVIEWS
Reviews listed alphabetical by CITY
CHARLOTTE (Belk Theater) "The drama of this version leaps straight at us. Credit those slimmed-down orchestrations and outstanding performances by Nathaniel Stampley and Alicia Hall Moran, original cast members from the Broadway version stepping up into the headliner roles, for bringing a chemistry to Porgy and Bess that I've never seen before. Sure, the music of "Bess, You Is My Woman Now" and "I Loves You, Porgy" has always been splendiferous. But when Stampley and Moran sang them on Tuesday over the new quiescent orchestrations, I was awash in tears, far eclipsing any experience I've had with these celebrated duets before." - Creative Loafing, Perry Tannenbaum

CLEVELAND (Playhouse Square) "Alicia Hall Moran, who alternated with and understudied Audra McDonald on Broadway, makes Bess a multi-leveled woman, driven by sexual desire, drug dependency, and a strong need to be wanted. She makes the character both despicable and appealing [with] a wonderful singing voice." - Morning Journal, Roy Berko

"Emotion drips from "The Gershwins' Porgy and Bess," thanks largely to the wonderful performances of the leads and supporting players. It's easy to root for the couple at the heart of the story thanks to Stampley and Moran, each of whom is all kinds of appealing in his and her own way." - News Herald, Mark Meszoro

DALLAS (Winspear Opera House/AT&T Performing Arts Center) "In the title roles, Nathaniel Stampley as Porgy and Alicia Hall Moran as Bess take this new adaptation of the classic to extraordinary new heights. Whatever your decision is on the adaptation of the original, there is no way you can doubt these two immensely talented actors at any time during the show…Alicia Hall Moran as Bess is stunning, poignant and powerful. Playing the lost soul as it were, one whose character follows an arc all the way through the deepest passions of life and love a human can endure, was delivered wonderfully and without flaw. Her connection to the character seems deep and true, and again I deeply felt every heart- wrenching and exciting emotion she experiences." - The Column, Richard Blake

"Moran is stunning in the part. She has the soaring operatic chops the lush music requires, coupled with the jazz instincts required in her work with her offstage husband, jazz pianist Jason Moran. Her solo verse of "Bess, You Is My Woman Now" is the most thrilling moment in the show: Her effulgent tone pours out, then is filed down to the narrowest, most beautifully controlled line imaginable." - Dallas Morning News, Lawson Taitte, Critic. Photo by Mona Reeder.

"As Bess, Alicia Hall Moran is a powerhouse. She is a mezzo soprano and we are used to hearing a soprano in this role. She adds an intriguing dark color to Bess' music. She also sings with a greater use of chest voice, as opposed to the brighter lyric sound that usually inhabits the role. She is physically ideal and completely believable every moment. Plus, it has to be tough to follow the acclaimed Audra McDonald, who won her fifth Tony for this role on Broadway in 2012." - Theater Jones, Gregory Sullivan Isaacs, Classical Music and Opera critic

DETROIT (Detroit Opera House) "Moran's Bess is emotional and honest. Her pain and confusion are raw and truthful and make the audience root for her. Stampley and Moran have breathtaking voices that resonate throughout the theatre during the production. Their duets are beautiful and filled with emotion from the first note." - Broadway World/Detroit, Katie Laban

GREENVILLE (Peace Center) "Nathaniel Stampley and Alicia Hall Moran, as the sympathetic Porgy and Bess, lead a first-rate cast. Stampley brings a warm, resonant baritone….the fiery Moran sings Bess with a rich, lustrous soprano." - Greenville Online, Paul Hyde

LAS VEGAS (The Smith Center) "The bond between these two lost souls gives "Porgy and Bess" an emotional power—amplified by Stampley and Moran's soaring vocals on the rapturous duets "Bess, You Is My Woman Now" and "I Loves You, Porgy." - Review Journal, Carole Cling

LOS ANGELES (Ahmanson Theatre) "...as a singer, [Moran] gives the character's wrenching, futile yearning a distinctive sound. She finds the truth of the character in her magnificent voice." - Los Angeles Times, Charles McNulty, Theater Critic

"As the stagelights fade to a subtle glow centered on the two of them, Bess (Alicia Hall Moran) sits on Porgy's (Nathaniel Stampley) lap, looking up into his eyes as he sings to her, "Bess, you is my woman now." She replies, "Mornin' time an' evenin' time an' summer time an' winter time." They kiss, the lights go out, the house lights come up, and as intermission settles in, the entire audience is forced to take a second to remind themselves that they are in the Ahmanson Theatre in Los Angeles and not back on Catfish Row with the company of "Porgy and Bess." Such is the power of the fantastic cast and incredibly talented leads of the Diane Paulus-directed Broadway National Tour of "The Gershwins' Porgy and Bess…." Alicia Hall Moran's haunting soprano and Nathaniel Stampley's rich baritone are standouts in their own right and complement each other beautifully." - Neon Tommy

"Alicia Hall Moran is impressive as Bess, a lithe, attractive young woman of easy virtue with a taste for "happy dust." Buffeted by circumstances, Moran's Bess is torn between her attraction (lust) for the violence-prone stevedore, Crown (played, literally, with towering intensity by Alvin Crawford), and the man with the big heart and the crippled legs, Porgy (sung and limped sympathetically by Nathaniel Stampley). The push and pull of this three-way relationship drives the drama and produces the most intense emotional sparks of the production." - Daily News, Jim Farber

"The Gershwins' Porgy and Bess," now at the Ahmanson Theatre in Downtown LA through June 1, plays with immediacy and heart that will move you to sheer theatrical ecstasy. Paulus and Parks paired down the massive score and script to its bare bones and the result is quite breathtaking. Dialect is fresh while remaining true to the period; and what has historically appeared to be a grossly stereotypical portrayal of simple, Southern, fumbling, oversexed, and lazy blacks are new deep, meaningful, and human. The new Bess, played by Alicia Hall Moran...is particularly triumphant. Paulus and Parks have created a brilliant re-envisioning of a contemporary tragic heroine." - The Examiner, Jesimiel Jenkins

PITTSBURG (Benedum Center) "The pair that give the play its title, the disabled beggar Porgy and boozy party girl Bess, are portrayed by Nathaniel Stampley and Alicia Hall Moran, who generate heat as the unlikely couple and soar on songs such as "Bess, You Is My Woman Now" and "I Loves You, Porgy." Sultry Bess, addicted to drugs and danger, stirs men's passions wherever she goes." - Post Gazette, Sharon Eberson

"The show opened Tuesday night to a packed house at the Benedum Center….While Stampley and Moran had incredibly large roles on stage (barely ever leaving), the entire cast deserves credit for their moving performance." - The Examiner, Hayley Martin

SAN FRANCISCO (Golden Gate Theatre) "The relatively small cast of 26 is wondrous. First among equals is Alicia Hall Moran as Bess. In addition to pitch-perfect, unshowy singing, she conveys a character that is human, believable and sympathetic. Moran is the perfect match to Nathanial Stampley, who triumphs as Porgy." - San Francisco Examiner, Janos Gereben

"It all works and it is all opera—meaning big stories, big emotions, big music—because of the splendid performances. All ably vocally negotiated their numbers, especially Mlle. Moran in an appropriately husky mezzo." - Opera Today, Michael Milenski

"This is not a diva singing the role of Bess, but rather Bess herself. Except for the necessary strutting at her entrance with Crown (the imposing, scary Alvin Crawford), Moran (a Redwood City native, who is making it big on Broadway) consistently portrays a simple, subjugated, abused woman, who finds — believably — emotions and strength within and against all odds. It's a moving, memorable performance, the perfect match for Nathaniel Stampley's Porgy, also a singing-acting triumph." - San Francisco Classical Voice, Janos Gereben

There is a paring down and insight into the "tragic character" of Bess, not developed in Porgy and Bess, the Opera. Bess, hitherto may not have been isolated or termed as " the tragic mulatto"...but I felt that keenly in this paring down and acted insights by Alicia Moran and bold direction by Diane Paulus. In this version, we are taken into the silences of Bess' character. She is met as a "happy dust" addicted prostitute, but you realize that there is much more to her.... a life before, and a life conflicted....with "the path not taken". One wants to know who Bess is...where she came from. ALICIA HALL MORAN's portrayal of this Bess is off the charts. GO SEE IT!" - Bill Doggett, Archivist/Historian
SEATTLE (5th Avenue Theatre) "The ardent romance is soul-stirring and vocally fulsome in the lead turns by Nathaniel Stampley and Alicia Hall Moran." - Seattle Times, Misha Berson

"In this production/reduction, we see only the shards of this glory glimmering between characters who move, talk, dance, and often sing like human beings. We also get something that's hard if not impossible for the original...to provide: great acting. Porgy and Bess is really all about the music. Each of its characters is less a person and more like a key on a piano. You strike it right, and you get this pure sound and emotion. In Parks's adaptation, which draws directly from the novel and life in general, there is more personality for the performers to play with. And as a result, we recognize the depth of Nathaniel Stampley in Porgy, the greatness of Alvin Crawford in Crown, and the intelligence of Kingsley Leggs in Sporting Life.
But this production is really about Bess, played by Alicia Hall Moran. Maybe this is just me, but the impression I got from the original is that Bess is a prostitute. In this version, it is clear that she is not a prostitute at all but the girlfriend of a hardworking and hard-playing stevedore, Crown. Yes, she is addicted to cocaine, but so are lots of other people in Charleston. Moran's Bess convincingly communicates a character who is not as weak and dependent as the original. She is less concerned with choosing either a bad man or a good man than considering motherhood and whether she wants to conform to stable and Christian matriarchal obligations. This is where the real stress appears: It's between a modern woman and traditional maternity. And so what influences the decision she makes near the end isn't so much the men in her life as the restricted ethos of the women in her community.
In an irritated 2011 letter to the New York Times, Stephen Sondheim wrote about the title of this revision: "I assume that's in case anyone was worried it was the Rodgers and Hart Porgy and Bess that was coming to town..." A much better way to handle the name would have been to follow this dialectical move: The original play, like the novel, is Porgy, the opera is Porgy and Bess, and the new adaption should just be Bess. - The Stranger, Charles Mudede

SAINT LOUIS (The Muny) "The good news is that this touring company is a strong one, with terrific voices and a fine ensemble of actors—something that, to be fair, you don't always get in the opera world. Better yet, most of the principals have some operatic background, so in some ways this cast combines the best of both worlds. It's a large company—26 members—so I'll confine myself to the leads and supporting performers…. Alicia Hall Moran's Bess has all the self-possessed sexuality the role needs, coupled with a strong undercurrent of sadness that makes her tragic downfall credible. - Operatic St. Louis, Chuck Lavazzi, Sr., Arts Critic, KDHX FM

"Played by a handsome and honey-voiced Nathaniel Stampley, Porgy 2.0 ambles about on a cane — down on his luck, sure, but nevertheless a viable suitor to Alicia Hall Moran's marvelous Bess. He certainly seems as desirable as the volcanic Crown (the strapping baritone Alvin Crawford) or the snakelike Sporting Life (a terrific Kingsley Leggs)." - Riverfront Times, Malcolm Gay

"The Muny's artistic director and executive producer, Mike Isaacson: 'Every once in a while, something comes along that's worth breaking all the rules for,' he said. 'This is one of those things. Porgy and Bess is arguably one of the greatest works of 20th-century art. Imagine that, and imagine that Gershwin score, under our trees and stars. We weren't going to let the chance go by.' The tour that's coming here [to St. Louis] is the celebrated production that director Diane Paulus introduced at Harvard's American Repertory Theatre (where she's the artistic director) and moved to Broadway. With a hard cut in length and a script reworked by Pulitzer Prize-winning playwright Suzan-Lori Parks, Paulus aimed the 1935 opera straight at today's theatergoers….'In everything I do,' she said, 'I want to embrace the audience—the people who are actually present in the seats.'" - St. Louis Today, Judith Newmark

SAINT PAUL (The Ordway) "It helps that Paulus and company can make their case so winningly thanks to their strong cast. As the licentious yet morally conflicted Bess, Alicia Hall Moran is a revelation; her tangy mezzo-soprano voice is not only technically able to handle all of Bess's demanding music but Moran's background in jazz and pop (she is a frequent collaborator of–and married to–jazz pianist Jason Moran) gives her an edge in shading Bess's songs appropriately. - L'Étoile Magazine, Todd O'Dowd

"Paulus praised the cast as top-notch, describing Moran as 'a pure singer who can sing anything in any octave with sheer beauty and force and musicality.'" StarTribune, Rohan Preston

TAMPA BAY (Straz Center) "In the enormously challenging role of Bess, is the lovely and talented Alicia Hall Moran. She is perfectly cast, physically for the demanding acting and singing required in the role. With her powerful voice, Ms. Hall Moran gives a highly dramatic interpretation in her portrayal. Ms Hall Moran has a beautiful voice; a heavy, equally dramatic, dark, covered, mezzo-soprano. In Act 2, when Ms. Hall Moran approached a lighter, brighter sound, (traditionally found in the role of Bess' ), in the 'Summertime' reprise, and in 'I Loves You, Porgy', each lyric was perfectly clear, her voice angelic." - Broadway World/Tampa, Jimmy Ferraro

WASHINGTON DC (The National Theatre) "Alicia Hall Moran is tremendously satisfying in the role here. Her Bess is every bit as be deviled, and her singing is lush and passionate in 'Leaving for the Promised Land' and 'I Loves You, Porgy'....Paulus gives Moran and Stampley space for the romantic scenes to grow: 'Bess, You Is My Woman Now' slowly breaks a nearly unbearable silence and begins so tentatively that you feel this budding romance is as fine as crystal, and as delicate. The entire production is rewardingly comfortable with silence and stillness; it's immune to the nonstop conniptions that turn so many Broadway shows into noise machines. Although Paulus is a bona fide Broadway baby—she earned best revival Tonys for this show and for Hair in 2009, as well as a best director Tony for her current Pippin—she has directed a number of operas, and she trusts the music to move things at the right time....Porgy and Bess has vacillated between musical and opera worlds for nearly 80 years, and this won't be the last word. But the pleasures here and now—dramatic punch, fervent voices, Moran's brave Bess—are substantial." - The Washington Post, Nelson Pressley, Theater Critic

"Bess, played by the beautiful Alicia Hall Moran, has a voice that astonishes and imbues Bess with heartbreaking anguish and profound determination." - Broadway World, Elizabeth Bruce

WEST PALM BEACH (Kravis Center) "Alicia Hall Moran is a sympathetic Bess, bringing a tender and poignant side to the heroine. The Broadway production was built around the formidable musico-dramatic talents of Audra McDonald. Moran was McDonald's understudy and her voice is remarkably similar in timbre, sporting a rich and voluptuous lower register and gleaming high notes." - South Florida Classical Review, Lawrence Budmen

"For all their operatic chops on display, much of the cast comes from the Broadway world and they infuse their vocal performance with an actor's ability to communicate a three-dimensional persona. Watching [Porgy and Bess'] two crucial duets is like watching separate beings gingerly reaching out, coming together and merging into one creation. When Stampley's Porgy declares 'Bess, You Is My Woman Now' or Moran's voice pours out 'I Loves You, Porgy,' respiration stops." - Florida Theater Onstage, Bill Hirschman

BUFFALO (Shea's Buffalo Theater) "There is no shortage of beautiful moments, but none can surpass Moran and Stampley's heartbreaking, tear-wrenching duet on 'Bess, you is my woman now'." - Buffalo News, Colin Dabkowski
Alicia Hall Moran, an operatic mezzo-soprano for Miami Art Basel/ArtPublic
Credit: Katie Orlinsky for The New York Times
"Strong and controlled and complete."
Ben Ratliff for The New York Times
"Spellbinding..."
- WNYC Radio
"The idea of thinking about those Motown pieces as a Schubertian song cycle winding through the stages and associated emotions of a love affair—from declamation, assurance, doubt, disappointment, to anger—was brilliant. Hall Moran managed to draw attention to the poignant poetry of the featured songwriters, while also exploring their universal potential beyond teenage wonder and angst. The cycle's accompaniment underscored the harmonic sophistication and her choice of ensemble was daring and inventive, and highlighted her
vocal control, dramatic talent, and conceptual range
." -
Guthrie P. Ramsey, Jr., Professor of Music, University of Pennsylvania
"It was our great fortune that Alicia was part of
Chapel/Chapter
. She brought to this work not only
her glorious singing but also her theatrical instincts, her creativity, her grace, integrity, commitment and consummate professionalism
. In many ways, she was the anchor that centered the three interwoven narratives that made up the piece. We thought we were looking for a singer but we found a composer and a collaborator as well. Even after listening to her performance for over a year, I was still surprised and moved every night by that voice and the unexpected musical choices she made."
- Janet Wong, Associate Artistic Director, Bill T. Jones/Arnie Zane Dance Company
"She is amazing." - Deborah Willis PhD, Author/Photographer/University Professor & Chair, Dept. of Photography, New York University

"[Diane] Paulus praised the cast as top-notch, describing Moran as "a pure singer who can sing anything in any octave with sheer beauty and force and musicality." - Rohan Preston, Theater Critic, StarTribune
"I've had the opportunity to work with Alicia on several occasions over the past several years, most importantly on the 2007 performance The Revival for which she was one of the musical directors. Alicia's presence was invaluable and perpetually essential. Rarely do you met an artist who is so in-tune with the nuances of a collaborative space. Alicia is insightful and generous, and her talent is immense." - Adam Pendleton, Visual Artist

Photograph by Mark Squires for L'Uomo Vogue Italia.